DOS GAMES
It's amazing how far computer games have progressed. But have you ever felt the urge to take a trip back in time and relive the games of the eighties and nineties? Well, i can say i personally enjoyed old games compared to modern games. A javascript version of dosbox was released by @caiiycuk and it is quite impressive as someone manage to port over the whole DOSBOX-SVN to the Javascript. Using this JS, i managed to port over some of the old games and bring it back to live to this website. No emulator, no installation, just browse and play. It is as easy as that.
Abuse
Abuse is a run and gun video game developed by Crack dot Com and published by Electronic Arts in North America and Origin Systems in Europe. It was released on February 29, 1996, for MS-DOS. A Mac OS port of the game was published by Bungie and released on March 5, 1997. The game's source code, along with some of the shareware content, has been in the public domain since the late 1990s and has been ported to Linux and many other platforms.
Alley Cat
Alley Cat is a classic among old computer gamers, where you are a tomcat trying to reach a high score with several minigames and who has to attract a potential mate. Nearly everything is out to prevent you from reaching your goal, though, even other cats. Good luck.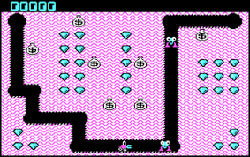 Digger
Take control of a mechanical digging machine as you tunnel your way through the earth, searching for valuable gems and the even more valuable bags of gold! But watch out for Nobbins and Hobbins, and don't be careless enough to let the bags of gold crush you! Digger is an arcade game combining elements of the popular arcade games Dig Dug and Mr. Do!. Players control the titular 'Digger' that can tunnel through dirt with ease. The goal of each level is to gather up each of the gems, which allows you to progress to the next stage.
Prince of Persia
Feel nostalgic and enjoy the classic game Prince of Persia 1 in your browser. Set in ancient Persia, Grand Vizier Jaffar rules in tyranny. He wants to claim the throne by forcefully marrying the Sultan's daughter. She now has 60 minutes before the marriage. The princess' lover is not going to stand still... Even though he is imprisoned in the dungeon, he has an absolute will to free her. Avoid countless traps and defeat all guards in a sword combat to reach higher levels, and finally, face to face with Jaffar himself. Hurry up before the time runs out!
Prince of Persia 2
Similar to the first Prince of Persia, the character explores various deadly areas by running, jumping, crawling, avoiding traps, solving puzzles and drinking magic potions. Prince of Persia 2 is, however, more combat-heavy than its predecessor. In the first game, enemies appear only occasionally and are always alone, while in the sequel, up to four enemies may appear at once, sometimes flanking the player, and may even be instantly replaced by reinforcements when they are killed. As in Prince of Persia, the trick is to complete the game under a strict time limit that passes in real time. Lives are unlimited, but time cannot be regained (except by reverting to a previously saved game). In other areas, more significant improvements have been made. The graphics are far more complex than the simple look of the game's predecessor, the areas explored are larger, and the variety of backdrops is greater.
Raptor - Call of Shadows
Raptor: Call of the Shadows is a 2D vertical-scroller single player game developed by Cygnus Studios and published by Apogee Software. Its working title was "Mercenary 2029". It was released on April 1, 1994 for DOS. The game is divided into three "sectors": Bravo Sector, Tango Sector, and Outer Regions, all of which have nine sub-missions called "waves", making for a total of 27 levels (9 per sector). The full version of Raptor allows players to start out in any of the three campaigns, though playing them in order helps the player to more easily accumulate money for weapon and shield upgrades. Once a player beats a sector, they can replay it with all the money and weapons that they have accumulated. The difficulty is increased when the player does this however, e.g. if the player beats the sector on Rookie and replays it, the difficulty will be set to Veteran.
Back to Applications